Rooster Booster 12-Volt lighting for chickens in the winter
12-Volt lighting timer for free range chickens which are housed where mains electricity is not available.
Lights for chickens in the winter
Day length is important to a hens egg production. As winter approaches and the days start to shorten, egg production will reduce or even stop! To overcome this artificial lighting is provided for the chickens
Rooster Booster poultry lighting is ideal for free range chickens houses where mains electricity is not available. Connected to a 12-volt battery, the rooster booster will provide light throughout the winter months, making it viable to keep hens in more remote areas.
Monitoring the 24-hour pattern of natural light and dark, the Rooster Booster timer adjusts it self so that it only comes on when it is dark in a 15 hour period thus maximising time between battery charges and ensuring that the free range chickens enjoy the benefits of natural daylight. At the end of the day after a short dimming time, a night period of 9 hours begins. No lighting is provided during this time allowing the hens to roost.
Important features
By providing two short periods of light when the hens are confined to the restricted area of their houses during dark periods reduces the risk of vices, such as feather pecking or egg eating.
Light provided at roost time gives the hens an opportunity to have a final feed.
The light will not deter the hens from roosting in the evening but will stimulate its egg production.
Providing light in the mornings makes the eggs come earlier, so when the conditions outside are a little muddy more eggs are produced before the morning paddle producing less dirty eggs.
There are two lighting systems to suit the size of you chicken house
The Rooster Booster Standard
Providing poultry lighting in small chicken houses of 3 or more laying hens is possible with the Rooster Booster Standard.
Select 1, 2 or 3, 2.2-watt bulbs to suit the lighting levels required for the size of the hen house.
House sizes from 3ft x 3ft up to 8ft x 4ft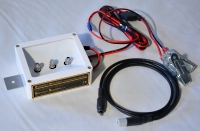 The Rooster Booster Multi-Lamp
The Rooster Booster Multi controller is capable of controlling multiple lamps, either filament, fluorescent or LED or a combination of all three. This means that it can be used for large houses stringing the lamps together to give the require light level. Or a number of small houses using suitable extension cable.
An example of the light output requirements
One 8-watt fluorescent lamp is equivalent to a 25-watts normal filament type lamp and will provide enough light for hens housed in a house that is approximate 20ft x 8ft.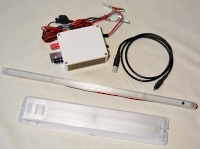 The Rooster Booster Multi comes with one extension lamp Fluorescent, LED or is fiited with bulbs for the Standard Multi.
Rooster Booster Accessories
---
For payments by credit card please call 01722 413440
If you have a question then call me on 01722 413440 or 07762 298373

All prices are subject to VAT
---